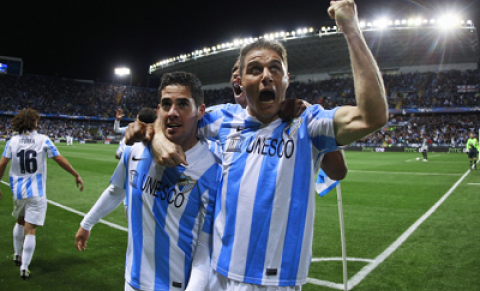 Buy your Malaga CF Tickets today at great value. Footballtickethome.com offers all categories of Malaga FC Tickets for all home and away matches in the Spanish La Liga competition 2023/2024 at very competitive prices. Book Malaga FC Tickets securely with us and enjoy the electrifying atmosphere with the Malaga fans at the La Rosaleda Stadium.
Malaga CF was founded 110 years ago in 1904 and is based in Malaga, Andalusia, Southern Spain. They play their home games at La Rosaleda, Malaga which holds over 30,000 fans. La Roselada (the rose garden) was built in 1941 on the banks of the Rio Guadalmenia and extensively renovated in 2006. Malaga CF has played 33 seasons in La Liga since 1929, and they won the Intertoto Cup in 2002, their only official trophy. In 2003 they reached the quarter finals of the Europa League and in 2011-12 they finished in 4th place in La Liga and qualified for the Champions League, they went on to reach the quarter finals. In 2012-13 they qualified for the Europa League but were banned from competing in 2013-14 due to unpaid debts.
We are offering you the best category Malaga CF tickets to see your team play. Don't miss out on seeing your favorite Malaga players on the field; buy your Malaga FC Tickets for the best prices.
Here at Footballtickethome, you can easily buy best category Malaga CF tickets to all your favourite football matches 2023/2024. You have come to the right place; buy your...